Ok, so you have your 15 potential topics that people are searching the internet to find information about and solutions for.
The next thing we need to find out is if any of the topics will make money!  Will this process guarantee that you'll make money with your product?  Nope.  But, if you follow this step you'll know for sure that there is a market for the taking!
It'll help you keep things in order if you make a folder on your Desktop to keep all your work together.  Just call it your "topic name" product for example "Photography Studio Product".
How do you find out if you will make money from your product?  Easy.  We just need to figure out if the people searching for your topics are buying "stuff" as well.
There are many different ways to do this but this is the way I like best:
First of all go to http://www.google.com and type in your top phrase (the one with the most searches) for instance I would type in "photography studio lighting".
This is what Google bought up for me: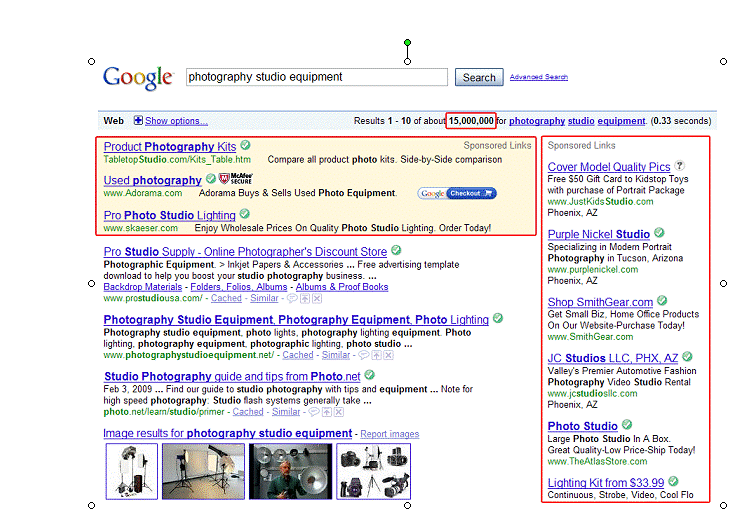 Look at your results and take note of the number of search results the query has.
In the example above I have highlighted the search results and there are 15,800,000 results for the phrase "photography studio equipment".
This is a lot of results and that normally means there is a market there.
The next thing you should note is the number of adwords advertisements the phrase has.
I have highlighted the Adwords on the page.  Adwords are small advertisements people place on Google for certain phrases.  What we're interested in is how many advertisers there are and what sort of price they are paying to be there because the more profitable a market is the more people will bid to place their ads.
So all you need to do now is type each one of the five phrases you picked earlier and make a note of:
The number of search results
How many people are paying to be their on  Google Adwords
Next we need to get a rough idea of how much people are willing to pay to be there on Google Adwords as this is a good indicator of how much money is in a niche.
Also make a note of what the Adwords are selling as this is a good indicator of WHAT people are buying in the niche and this can help you with your product creation.
For instance what is the top Adword Ad?   For the photography studio topic it is "Product Photography Kits".   This isn't necessarily the best product to copy but it will give you an idea of what people are selling for that topic.
When you're finished checking out the search results for each one of your phrases and the competing ads, we next need to know how much people are paying for those ads.  For this we'll use Spyfu.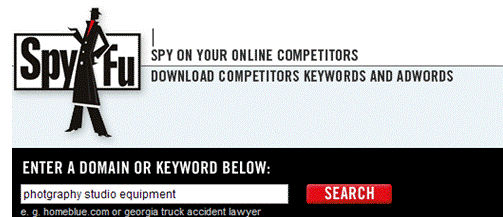 Spyfu lets you see what people are spending on Google Adwords for specific phrases.
Type your main phrase into the Spyfu search bar, click search, and Spyfu will display the information we want.  You will need to do this with each of your phrases but first, I'll go through the process with my example phrase "photography studio equipment".
This is the info that SpyFu bought up for the phrase "photography studio equipment":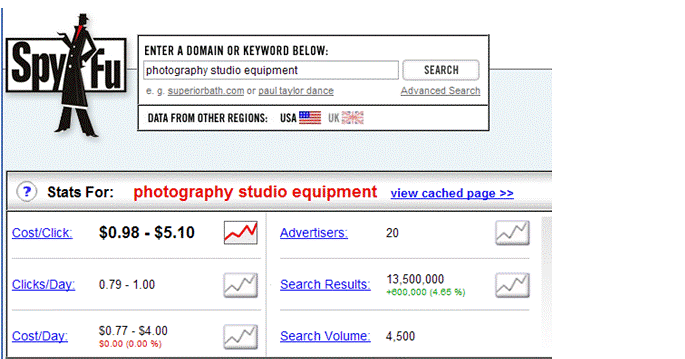 Let me explain what this data means and how it is relevant:
Cost/Click: This tells us the average cost to the advertiser per click, so you can see that the average advertiser is spending between $0.98 and $5.10 per each click.  The higher the number the better. $5.10 per click is a pretty good figure since if an advertiser is spending $5 per click they're probably making sales.
Clicks/Day: This shows us the average amount of clicks per day an advertiser is getting for that phrase.  Again, higher is better.
Advertisers: This shows the number of advertisers bidding on this phrase. This number will never go above 21 because SpyFu doesn't drill down past the second page of ads.
Cost/Day: This reflects the total daily cost to all advertisers that bought this keyword/phrase this just shows you how much an advertiser is prepared to pay to stay at the top. Normally the more the better, as if the advertiser is willing to pay more than they must think the keyword is profitable!
Search Results/Search Volume: These both come directly from Google.  The Search Results number is the total number of pages that satisfy the search criteria.  The Search Volume is the number of searches for the particular phrase in the last month.  Ideally, you're looking for a high Search Volume with a low number of Search Results.  But, at this point in the game, the Search Results aren't too relevant.
So all you need to do is go through each of your 5 keywords and see the results using this tool.
Ideally you will be looking for all the figures to be high and the competition low (lower than 10 competing ads can be a goldmine!).   However as long as people are spending money and there is a market there you will make money 99% of the time.
You should find a niche this way that tells people how to solve a problem or offer some solution.
Now, don't get too caught up on analyzing the numbers. Just take each of your topics, type them into Spyfu and note the results and see how much people are spending to be there.
The next step will show you how to get started creating your product.